MIÊU TẢ SẢN PHẨM ZEBRA MOTOROLA LI4278
Máy quét LI4278 nâng khả năng quét mã vạch 1D lên cấp độ tiếp theo, cho phép các nhân viên quét nhanh hơn và xa hơn vì họ có thể chụp gần như mọi mã vạch 1D.
+ Được tích hợp để sử dụng cả ngày và hàng ngày, máy quét LI4278 cung cấp khả năng không dây và tương thích với Bluetooth.
+ Máy cũng cung cấp mã hóa tốt hơn để tăng cường bảo mật và hiệu năng không dây tổng thể tốt hơn.
+ Máy quét LI4278 tương thích ngược với phụ kiện quan trọng của máy — đế giữ — hoạt động với các sản phẩm anh em của máy là LS4278 và DS6878.
+ Quản lý năng lượng pin ưu việt cho phép số lượt quét cao nhất trên mỗi lần sạc pin để hỗ trợ các ứng dụng cần quét nhiều.
+ Bạn có thể sử dụng máy trong môi trường bụi bặm và ẩm ướt và máy có thể chịu rơi từ độ cao 6 fut/1,8 m.
Hiệu năng quét 1D xuất sắc
Cung cấp tốc độ quét ưu việt và phạm vi chụp dữ liệu rộng
Chụp gần như tất cả mã vạch 1D trên mọi bề mặt — bao gồm cả màn hình điện thoại di động
Chụp nhãn in trên giấy thường cũng như mã vạch di động có thể hiển thị trên điện thoại di động, máy tính bảng hoặc màn hình máy tính
Phạm vi hoạt động rộng
Đọc các mã vạch UPC từ 1 insơ/2,54 cm đến 30 insơ/76,2 cm cũng như các mã vạch có mật độ cao ở phạm vi rộng cho các ứng dụng phức tạp
Chuyển động ưu việt và dung hạn góc cùng với quét đa chiều
Có thể chụp mã vạch nhanh hơn và không cần tạm dừng giữa các lần quét hoặc căn chỉnh máy quét và mã vạch
Pin sạc có sẵn
Cung cấp số lượt quét cao nhất trên mỗi lần sạc pin – dễ dàng hoạt động cả ngày ở các cấu hình sử dụng cao nhất; pin thay được đảm bảo thời lượng pin lâu
Tương thích với 123Scan2 và Quản lý Máy quét Từ xa (RSM)
Giảm đáng kể thời gian và chi phí quản lý, từ định cấu hình ban đầu đến quản lý hàng ngày
Chịu được trên 100 lần rơi liên tiếp xuống nền bê tông
Chống thời gian chết do hỏng hóc vì rơi hàng ngày
Lắp đặt linh hoạt — theo chiều dọc hoặc chiều ngang
Đế giữ để bàn mang lại khả năng linh hoạt để phù hợp với môi trường độc đáo của bạn
Bluetooth 2.1
Cung cấp bảo mật tốt hơn, hiệu năng tốt hơn, quản lý năng lượng tốt hơn và ghép đôi dễ dàng hơn nhiều qua kết nối không dây Bluetooth
Tương thích ngược
Hoạt động với các đế giữ LS4278, mang đến khả năng nâng cấp rất tiết kiệm chi phí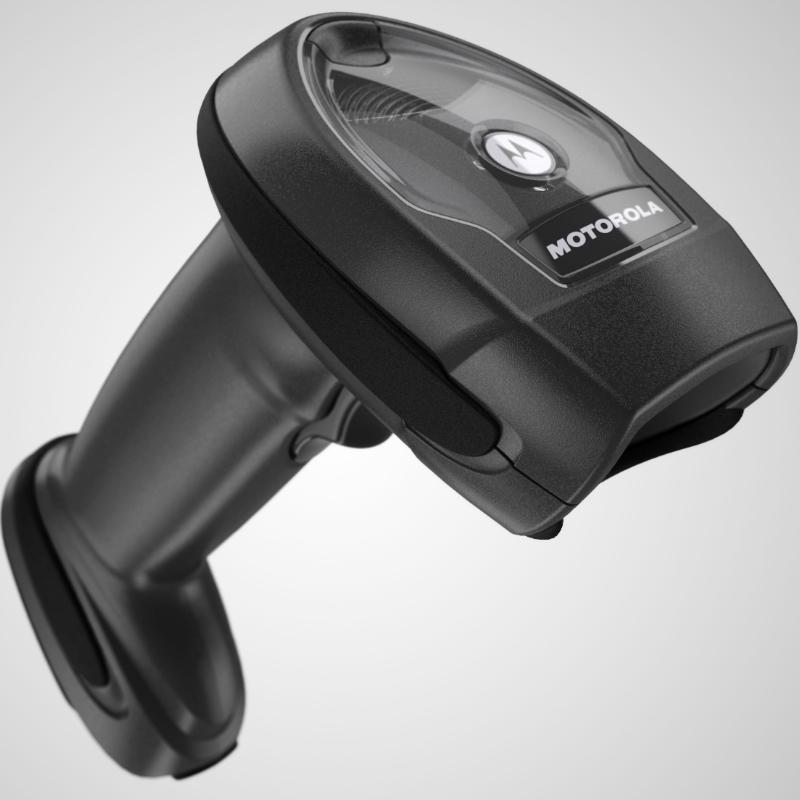 THÔNG SỐ KỸ THUẬT:
Model: SYMBOL LI4278
Công nghệ đọc mã vạch: Quét ảnh tuyến tính (Linaer Imager)
Tốc độ đọc mã vạch: 547 scans / second
Độ phân giải (max): 3mils
Công nghệ không dây: Bluetooth Class 2
Khoảng cách đọc: 100mm
Nguồn sáng: LED Class 1 device 617nm (amber)
Đèn báo: Beeper
Kết nối của Cradle: RS-232; RS485(IBM); USB; Keyboard Wedge
Kích thước: Reader: 9.8 cm H x 7 cm W x 18.6 cm L
Trọng Lượng: Reader: 224 g
Độ bền, chuẩn IP: chịu được độ rơi 1.8m
Đọc các chuẩn mã vạch: Đọc tất cả các mã vạch 1D, - UPC/EAN: UPC-A, UPC-E, UPC-E1, EAN-8/JAN 8, EAN-13/JAN 13, Bookland EAN, Bookland ISBN Format, UCC Coupon Extended Code, ISSN                                           EANCode 128 Including GS1-128, ISBT 128, ISBT Concatenation, Code 39 including Trioptic Code 39, Convert Code 39 to Code 32 (Italian Pharmacy Code), Code 39                                               Full ASCII Conversion Code 93 Code 11Matrix 2 of 5 Interleaved 2 of 5 (ITF) Discrete 2 of 5 (DTF) Codabar (NW - 7)MSI Chinese 2 of 5 IATA Inverse 1D (except all                                                   GS1 DataBars) GS1 DataBar including GS1 DataBar-14, GS1 DataBar Limited, GS1 DataBar Expanded
Bình luận
RIdQTj ljeusmzhflqq, [url=http://vrwsllbsssmk.com/]vrwsllbsssmk[/url], [link=http://znqkhtjliosx.com/]znqkhtjliosx[/link], http://vrgaarrxhnkf.com/
eGQswn nuionsljobgj, [url=http://xwqfladfsyjl.com/]xwqfladfsyjl[/url], [link=http://iniyytlnkkyj.com/]iniyytlnkkyj[/link], http://onmvmvlpnwaq.com/
ZB6Tje vutmdteksutq, [url=http://splktbhxkufb.com/]splktbhxkufb[/url], [link=http://psqyiqatwgeq.com/]psqyiqatwgeq[/link], http://biromekyudnh.com/
A Biological Masterpiece, But Subject to Many Ills
The human foot is a biological masterpiece. Its strong, flexible, and functional design enables it to do its job well and without complaint—if you take care of it and don't take it for granted.
healthThe foot can be compared to a finely tuned race car, or a space shuttle, vehicles whose function dictates their design and structure. And like them, the human foot is complex, containing within its relatively small size 26 bones (the two feet contain a quarter of all the bones in the body), 33 joints, and a network of more than 100 tendons, muscles, and ligaments, to say nothing of blood vessels and nerves.
https://www.cialissansordonnancefr24.com/acheter-cialis-en-france-sans-ordonnance/
Writing a medical thesis or dissertation is a task done by almost all postgraduate and master's medical students. Dissertation is derived from the Latin word disserto which means discuss. It is essential to write successful medical papers such as medicine essays and medical thesis papers. There are several reasons as to why students write medicine essays. One of the reasons is to promote enhancement of critical judgment, research skills as well as analytical skills. Moreover, medicine essay writing produce students with the ability to 4evaluate and analyze data critically.

The initial step for writing medicine essays is to choose a topic. A writer should have at least three topics to choose from. The topic has to be interesting, feasible and relevant. It is essential to write quality medicine essay. Hence, students need to have analytical skills and perfect writing skills. The writing skills will enable them write outstanding essay papers that can be highly regarded by instructors and professors. Teachers often require a lot and expect a lot from their students in terms of medicine essay writing. for this reason, students find essay writing to be an extremely difficult task and hence resort to buying custom medicine essays.

A custom medicine essay has to be written by professional writers who are qualified in the field of nursing. Moreover, the custom medicine essay has to be original and plagiarism free. This means that it has to be written from scratch by experts with many years experience. The many years experience should enable a writer to write any form of medical paper including medical thesis, medicine essay and even medicine research paper. Moreover, experience will enable a writer to write a medicine essay that can guarantee academic success.

Students get custom medicine essays from custom writing company. It is essential to choose the best company so that one can get the best custom medicine essay. The best and the most reliable medicine essay writing company should have some unique characteristics such as affordability and the ability to provide original and superior quality medicine essays. The other quality is that the company has to hire expert writers who can write quality medicine essays and other types of medical papers. The essays should not only be quality but also plagiarism free and free of grammatical and spelling mistakes.

A custom medicine essay has a similar structure to any other academic essay assignment. It has an introduction that introduces the topic and tells the reader what the essay is all about. The second section is the body that has many paragraphs supporting the main topic. Finally there is the conclusion that briefly summarizes what has been discussed in the body section of the essay. Students should choose reliable writing companies so that they can get quality custom papers on several fields such as technology, sociology and law in addition to medicine field.

Our custom writing company is the best company that all clients should rely on when in need of any given type of medicine paper. We provide quality papers that not only plagiarism free but also original. Moreover, our custom papers are affordable and able to guarantee academic excellence at all times. All our medical papers are reliable and sure of satisfying clients at all times.

 
Doctor Who is now considered a British Institute and has come a long way since it first aired on November 23rd 1963. The very first show saw the Doctor travel 100,00 years into the past to help some dim cavemen discover light. After 26 seasons and seven Doctors later the series came off our screens in 1989 much to the disappointment of the huge devoted fanbase. In 1996 an attempt was made to revive Doctor Who but it wasnt until June 2005 when it came back with a vengeance with Christopher Eccleston as the ninth Doctor that put the series back on the map as it were. It then went on for 5 years with David Tenant portraying the Doctor until 2010 when Matt Smith took over the role. Today it is still a great family show and has attracted many new fans.

If youre a new or old fan of the show there are Tours and museums you can go and see some of the locations and memorabilia of this classic show. The Doctor Who Tour of London will take you on over 15 locations from the show, some from the new series and some from old sites like the location of The Invasion and Resurrection of the Darleks. The tour also takes you to the TV museum in London where you will get to see some of the cosumes worn in the show and props used. Also you can buy gifts and memorabilia from the shop.

You will learn all about how the shows were made so the tour is also educational. If you want to take pictures of the locations thats not a problem. Remember the front door of 10 Downing Street in Aliens of London? Well you can get up and close to this and get your picture taken in front of the door. Rose Tyler fans will love the tour as you get to drop by her home in the show.

Why not go that extra mile and actually meet a Doctor Who star. Well this is possible with private or group tours. You will get the general tour but included will be a pre-arranged meeting or lunch with a celebrity from the show. This will obviously depend on availability of the celebrity and the cost will reflect the popularity of that celebrity.

There are tours in London and also Wales. The Wales tours take you to Cardiff where you will see lots of location which were featured in shows since 2005. You can leave from London or at Leigh Delamere services station on the M4. There is a Doctor Who exhibition in Cardiff which you get to see. At the end of the Doctor Who tour you get a souvenir group picture sent you by email which is a nice touch.

For seriously devoted Doctor Who fans there is a 3 day tour which takes you to all the locations in both London and Cardiff. You will see locations from the past 45 years as well as recent sites from the lasted Doctor Who series. Day one is based in London where you get to see 15 sites. Day two takes you to Cardiff where you get to mean the real life owner of the to see we have an Gothic property used as the location of the school in Human Nature. The final day is partly spent in Cardiff with a walking tour at Cardiff Bay, then you head back to London but a stop at Stonehenge to see the site of the Pandoica. Then its dinner at The Cloven Hoof pub in Devils End b efore you taken back to central London.

 
No matter how happy people may be with their life, stress may find its way in. Sometimes stress is so hard to control because people do not know how to go about fixing their stresses. In the following article, you are going to be given advice to help you deal with life's stresses.

sildГ©nafil generique prix maroc
301 Moved Permanently
301 Moved Permanently>>>
Viết bình luận cho sản phẩm này!
Copyright www.maxx-marketing.net